BREAKING NEWS!
THE WA GOVERNMENT IS OFFERING FREE JOB SKILLS TRAINING*!
THAT'S RIGHT... FREE TRAINING!
*eligibility criteria applies
ARE YOU SOCIAL, WITH A GREAT ATTITUDE BUT NEED TO PERFECT YOUR SKILLS?
DO YOU WANT A CAREER THAT CAN TAKE YOU ANYWHERE IN THE WORLD?
HAVE YOU CONSIDERED A CAREER IN HOSPITALITY?
The WA government want to meet the immediate and emerging skill requirements to ensure our State has the best hospitality workers ready to rock as we emerge from social distancing AND are providing FREE skills training to make it happen!
If you are considering a career in Hospitality, there has never been a better time to take the plunge or find out if this is the career for you.
The Hospitality Service Skill Set provides a launch pad for students to upskill and cross skill for new jobs or provides pathways to the SIT30616 Certificate III in Hospitality
AM I ELIGIBLE?
To be eligible for FREE TRAINING you MUST MEET ONE OR MORE of the following criteria:
​
In receipt of JOB SEEKER or JOBKEEPER payments (or any replacement schemes in place by the Commonwealth Government to support unemployed persons); OR


Entitled to the concession rate for publicly funded vocational education and training; OR


Aged 15 to 24

(School based students are ineligible to be enrolled in these skill sets.)
Students that do not meet one or more of the criteria listed above will still be able to enrol in the skill sets however, they will be required to pay applicable course & resource fees.
WANT TO
KNOW MORE?
REQUEST A CALL BACK!
THE HOSPITALITY SERVICE SKILL SET IS ENTRY LEVEL TRAINING THAT WILL GIVE YOU THE BASIC SKILLS REQUIRED TO BE CONSIDERED FOR A JOB ROLE IN A HOSPITALITY VENUE SUCH AS A RESTAURANT, COFFEE SHOP OR BAR.
The skills ready training includes the following units of competency:

Provide responsible service of alcohol (SITHFAB002)


Prepare and serve espresso coffee (SITHFAB005)


Serve food and beverage (SITHFAB007)


Provide service to customers (SITXCCS006)


Process financial transactions (SITXFIN001)


Use hygiene practices for food safety (SITXFSA001)


Comply with infection prevention and control policies and procedures (HLTINFCOV001)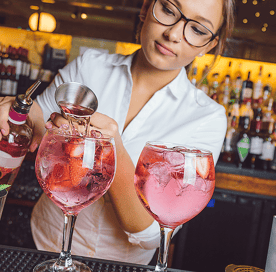 THIS SKILLS READY TRAINING IS FUNDED BY THE WA DEPARTMENT OF TRAINING AND WORKFORCE DEVELOPMENT, AS PART OF THE TRAINING SECTOR COVID-19 RESPONSE AND RECOVERY PLAN.